Meet the CEO
About the T Shirt Creative Enthusiasm Officer
A friendly hello!

My name is Derek and I am the CEO (Creative Enthusiasm Officer) of CreateTshirtDesigns.com
I have been in the design industry for over 15 years [with tomorrow being another day in the design industry].
This is a brief introduction to who I am, what I do and my knowledgable experience as a creative designer.
Humor combined with my creative grey matter is the person that I have been created to be. It all began from the very first cell when I was being knitted inside my mom's womb./p>
SHOW OFF YOUR PASSION
Do you realize that your hobbies and life skills can generate a solid income on the Web.
My creative enthusiasm has been a part of me and who I am from a very, very small age. I enjoyed drawing and seeing things differently and expressing ideas with a slight angle to the everyday way things are seen.
I studied at two different design colleges where I graduated as top designer of my class.
"My time at college was where I really acquired the skill of 'thinking creatively', the creativity was always there, I just had to learn how to get it out and show it off.".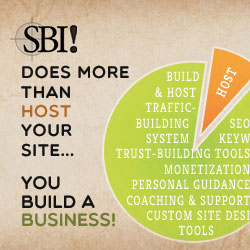 What I have learnt is basically how to 'think creatively' rather than having tools like computers etc to create.
At college all designs were done by hand, from type layout to rendering photos with markers.
My first two years at college was all about testing and experimenting with different artistic techniques.
Using paint, graphite, charcoal, colored markers and ink. Even the unconventional materials like, wood varnish, magazine clippings, wire, wood, textile and lino printing.
I was encouraged to be creative and investigate as much as I could to stretch my thinking. Playing with different materials made me my exploration more enjoyable.
Not only was it exploration, but, it gave me the freedom to apply design to any medium that I liked, from print design, logo design, web design, promotional design to t shirt design.
Being versatile like this, means I can design my own logo, create a brand, print t shirts and promote it on my own website just like this one through SBI's helpful tools, community and forum. You can too, just bring your BAM (Brains and Motivation) (and some hard work) and SBI will make this happen for you.
You too can express your own passion, thoughts or hobby into a means of having fun and learning something new.
Enjoy this website, explore each page, and be inspired to design.
Feel free to contact me anytime for any questions or comments.
Learn More With Videos!
Most designers are visually designed and understand better with images or videos, so that's why I would like to invite you to check out a quick video tour of Sitesell.com.