Design Your Own Logo
The Experience and Expertise of a Professional
Logo Design Team
Do you think, that you have what it takes to design your own logo?
Most folks would say, yes, I got what it takes. I can design my own logo. I got a computer, some software, a printer, a couple of fonts and some cool pics.
Majority of people would agree that their very own 'home-made' logo design is 'pretty good.'
But why settle for a 'pretty good' logo when you can rather have a 'superbly great' custom logo.
Look at this way, you might have 'what is takes' in term of the tools used to design your logo, or at least some tools. But do you have the 'right tools' for designing a logo?
So if you do or don't have the right tools, do you really have the training, expertise and skills to design your own logo?
Yes, you might have the vision on how you would like your logo to look and the passion to see it come alive, but do you really have the experience and finishing touches to making your very own logo design meaningful and gripping?
Designing logos has got a lot to do with thinking creatively. Some people have the mind for creative thinking. Others are more gifted in other areas like numbers, people and animals.
We can all come up with a stunning idea in our mind and can sort of visualize how it looks, but then to make that idea come alive on paper is another thing.
Designers have got the knack and talent for seeing things and then making them a reality. This is not only a talent but also a skill that they have developed and practiced.
For a logo design the simpler the better. And experienced designers can develop a logo that is simple yet can still say a thousand words. The logo can speak for itself
---
Would you Design Your Own Logo?
Would you ever get your green grocer to build your dream house?
Would you pay a mechanic to do dental work on your teeth?
How about an accountant teaching you to fly an airplane?
It doesn't quite make sense, does it?
Why because, it is not their field of expertise. They are not qualified for that particular area. They haven't studied and worked in that specialized industry.
They are specialists in their 'own' line of work.
So why not hire a specialist to do a professional job.
You might have the impression that designing a logo is easy, its just a bit of that, a little of this and magic, it's there! But actually is quite an involved process.
---
The Best way to Design Your Own Logo
There are five main ways to get a logo for your business.
Each way has been ranked out of 5 stars.
1. DIY (Design It Yourself)
cost effective solution
use of basic software on your PC
limited resources
not familiar with how to print or supply hi-res logo formats
will lack a professional touch
| | |
| --- | --- |
| Rating: | |
2. Teach yourself with Professional Software
use a limited online logo emblem creator
buy and learn
takes time to learn first and then design a logo
you will have the software for other uses too
software is sometimes expensive
| | |
| --- | --- |
| Rating: | |
3. Use ready made Templates
instant way to download a logo
often discounted logos
easy to edit and change the colors and fonts
template logos are often sold to many customers
have to purchase the rights to own the logo
| | |
| --- | --- |
| Rating: | |
4. Hire a Freelance Graphic Designer
skilled at many applications like Adobe Photoshop, Adobe Illustrator and Corel Draw
often not as quick because they work on other projects too
need to look hard to find a good designer
tend to have a certain style and way of designing
offer other design services that can compliment your logo
| | |
| --- | --- |
| Rating: | |
5. Expertise of an Online Logo Design Studio
receive multiple logo design options
superb customer service
plus many more design services are available to build and enhance your business logo
| | |
| --- | --- |
| Rating: | |
---
The Simple Process to Design Your Own Logo
As you can see from above, an online design studio has a 5 star ranking for all your logo design requirements and needs.
This is how effortless it is to have your logo designed for you. The design process is streamline and easy.
Fill in your details and your brief for your logo.
Within a couple of days, between two or three days you will receive several fresh logo design concepts for you to look at.
Then you decide on which concept you would like to work further on and send your input and changes.
Revisions are made until you are 100% happy with your design.
Then final formats are supped to you in various formats.
But why just have a logo design?
Look at having your logo worked into a website or stationery design like business cards and letterheads.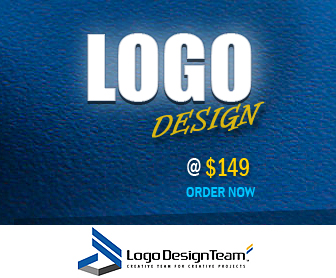 ---
Design Your Own Logo,
plus much more!
Wouldn't you want to focus your time and effort into building your business, right?
Right!
And part of building your business is building your brand. You want people to see your business everywhere. You want them to find your business anywhere. You want people to have a enjoyable experience with your business.
People are visually stimulated, the more they see of your business, well, the better your business.
These are other 'stimulating' graphic design services available too:
Save yourself time and money. Put your business first with a custom logo design.